Sebastiaan van Delft, pianist
"Lately I went biking in the Alps. Trying to conquer a mountain at break-neck speed, I was a victim of my own dark view of myself. My movements were exaggerated and desperate as a drowning person, involving unnecessary body parts other than my legs. This is what happens to a man who grasping at straws.

Suddenly realizing how vain my efforts were, I decided to let go a little. I found that I could concentrate on the legs, in such a way that the rest of the body didnít interfere -like laying down on the table in a lesson, with the head leading-.

My performance didn't suffer from the drag of over exertion, plodding or ineffcient labouring... More than athletics, the Alexander Technique has helped me steer clear from a kind of compulsive, choppy way of moving. My breathing is natural and more rhythmic.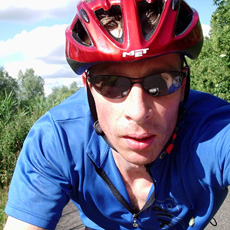 Sebastiaan van Delft
What's more, I feel there is a certain space around me that is mine -that I have a measure of control. I am able to slow down or speed up incoming events to the pace of my choosing."