Els Weeda, traveller
"What a relief my introduction to the Alexander therapy, excuse me, -technique, has been. The fact that it isn't called a 'therapy' is part of the 'cure'.

No more endless searching for where the pain is situated - when and with what movement it starts - where it stops...nothing so difficult.

When you begin the Alexander Technique, step by step the body learns how to behave like its natural self, in a way that feels best. It's a lesson of motion in balance. Not that it specifically cures a bad knee or back, but something in the process happens that allows the body to handle and put the pain in its proper perspective. As if the pain gets lost in space, no longer blocked.

After a Alexander Technique lesson, the pain seems to be located somewhere in the distance. Its influence on your daily life is smaller.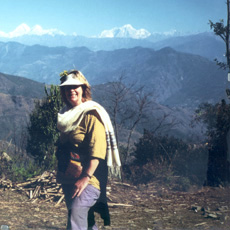 Els Weeda
After 25 years of therapies, medical treatments and injections, most of which only gave temporary relief, I have rediscovered my old self. I'm back in shape and run happily through life.
The pleasant, calm and very careful way Noortje has guided me has brought about this fantastic result."