Forward and up
Alexander Technique
The Alexander lesson consists of observation and simple movement lending clarity and understanding to how you function as a unit. The teacher gives the student tools to undo hindering habits and access natural coordination. Freedom and ease follow.

An example of simple activity is the work using a chair - how to sit, get up, stand, and get back into the chair. While the teacher guides the student verbally she applies her skills with a subtle touch allowing the student to experience hands-on direction.

Lessons are normally given on a one to one basis and are tailor-made for the individual. The amount of lessons you need in order to apply the basics of Alexander technique is personal.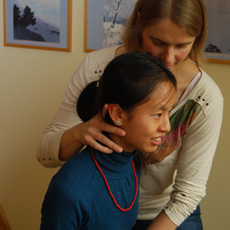 Noortje Köhne with a pupil.

The usual lesson lasts 45 minutes at a cost of 52 euro (21% BTW included). Cancelling a lesson can be done until 24 hours before, after that full payment is required. Students are eligible for discounts.
Comfortable clothes facilitate the lesson.