In the early 1900's there lived a man, an Australian actor and Shakespearean orator. Despite a promising career, he suffered constant setbacks due to voice troubles, hoarseness and lack of strength usually being the case.

Determined to learn the reason why his voice would suddenly fail him in public, he began a painstaking program of self observation, using mirrors an aid.
After many hours of analysis he discovered that his vocal woes were directly related to the misuse of seemingly unrelated parts of the anatomy.

In the process of learning how to prevent what he judged to be poor body habits, not only did he help his voice to reach full potential, but discovered a new natural balance, and attained to an overall well being.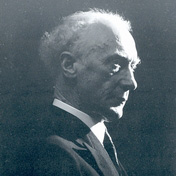 F.M. Alexander
Today his personal approach to physical education and health is respected world-wide. His name is Frederick Matthias Alexander, the founder of what is known as the Alexander Technique.