F.M. Alexander wrote four books: Manís Supreme Inheritance (1918), Constructive Conscious Control of the Individual (1923), The Use of the Self (1932) en The Universal Constant in Living (1941).

See also www.nevlat.nl for a extensive list of Dutch literature.

Articles on internet, in various languages: 'The complete guide to the Alexander Technique' www.alexandertechnique.com

Also: www.ate.org.au/articles.htm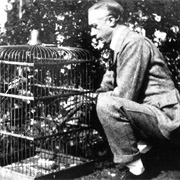 F.M. Alexander with a bird.